LA COLLAGE DE ROBERT TOREN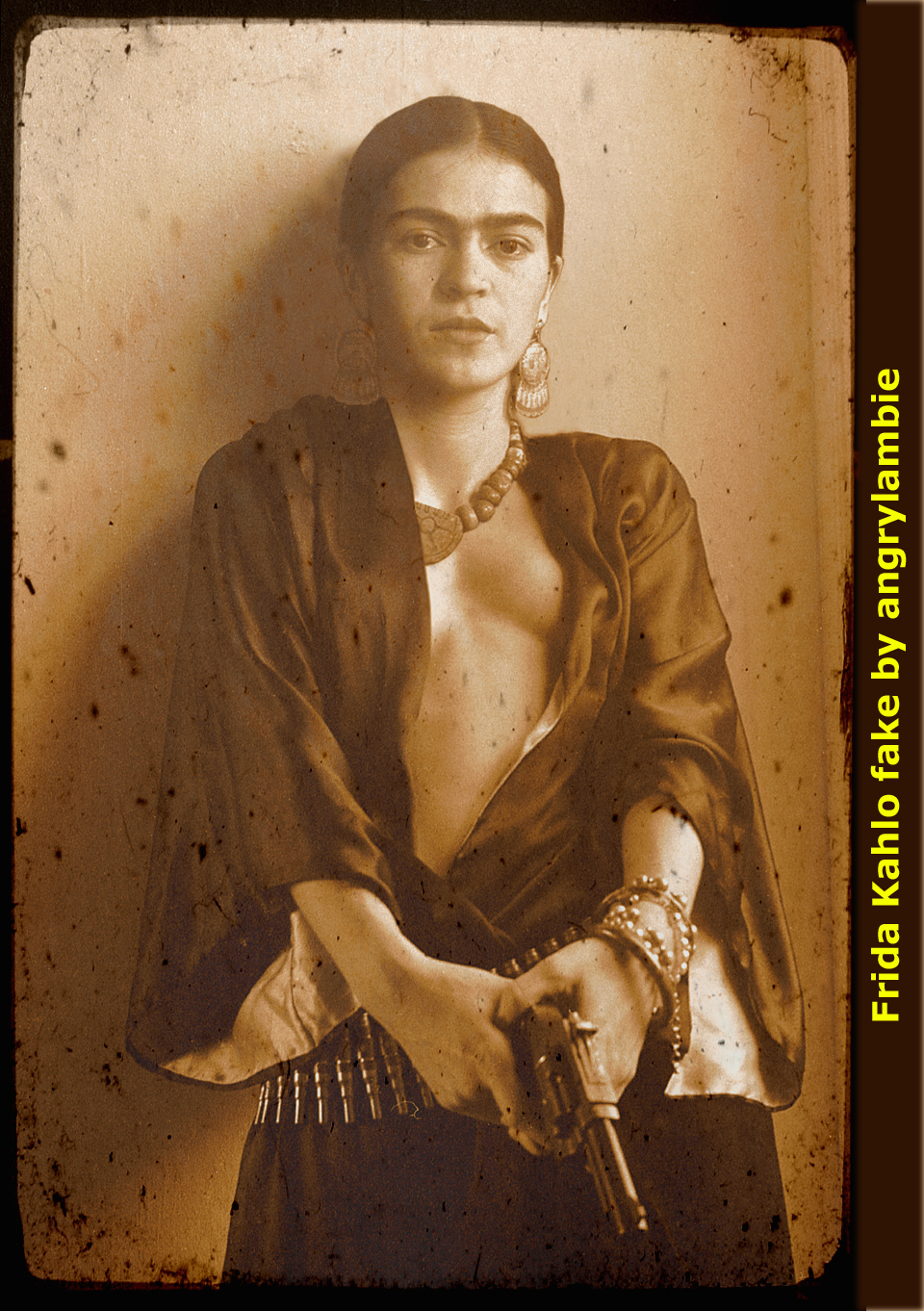 Se propago en la red, un collage de foto con Frida Kahlo, que se volvió viral en Julio de 2012, creado por lo fotógrafo de art americano, Robert Toren.
En un primer momento, una imagen de Frida en la que aparece sosteniendo un revolver, e después una otra foto, pero no sola, mas acompañada por Vladimir Mayakovsky.
La primera foto, es una composición con Photoshop, la foto original es de Robert Toren, que fotografió a Donnette Thayer, en 1983.
•  •  •  •  •  •  •  •  •  •  •  •
It has spread in the web, a Frida Kahlo photo collage that went viral July 2012, created by US Art Photographer Robert Toren.
At first, a picture of Frida in which she is shown holding a gun, and then another photo, but this time not alone, but accompanied by Vladimir Mayakovsky.
The first photo is a composition, made with Photoshop. This original collage is of Robert Toren, who photographed Donnette Thayer in 1983.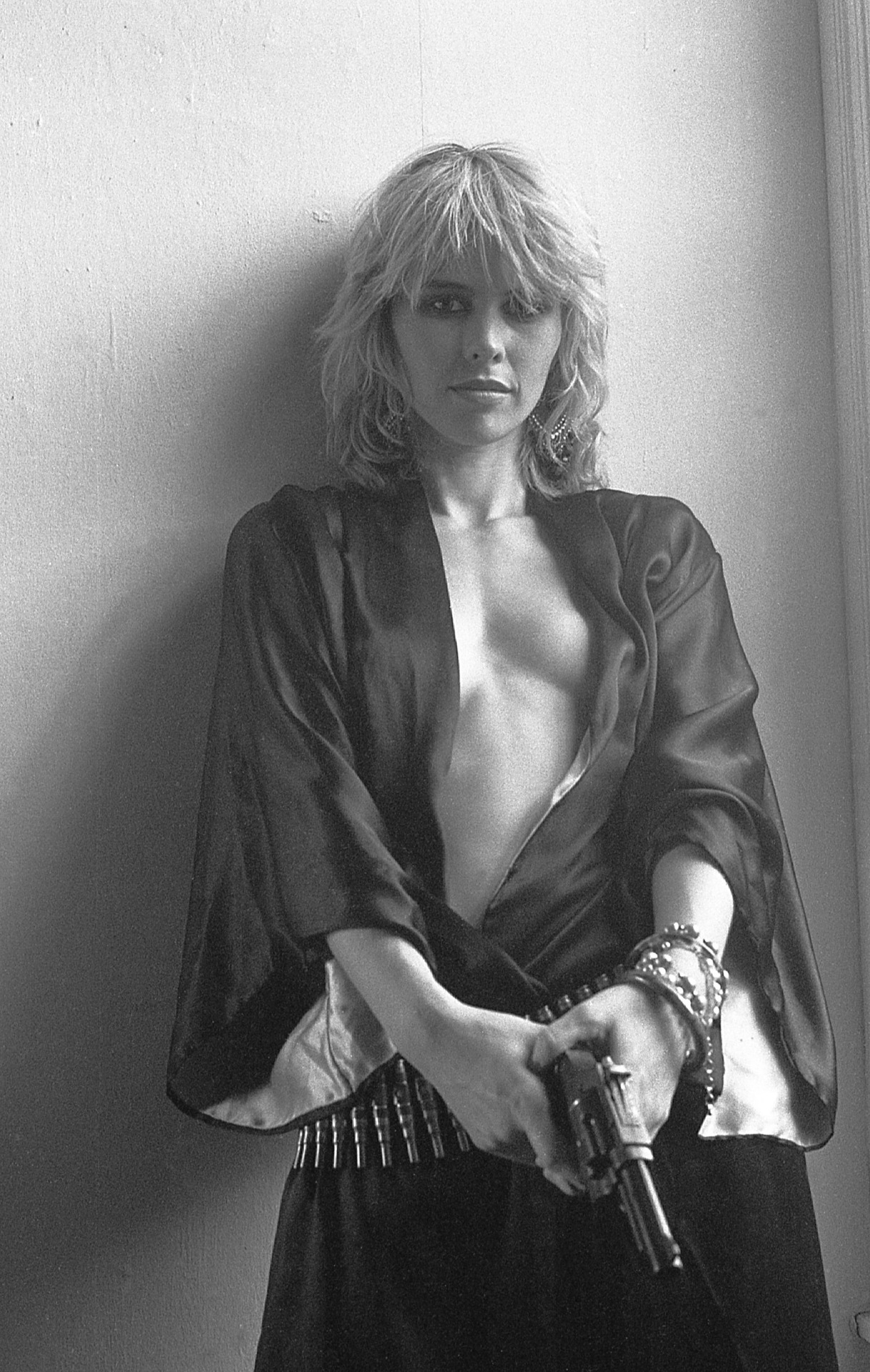 Donnette Thayer, Sacramento, California 1983
http://photo-robert.tumblr.com
Donnette Thayer es un vocalista, guitarrista y compositora, más activa en la década de 1980 y principios de indie rock del norte de California en 1990.
Thayer fue miembro de la banda Game Theory, y más tarde formó Hex con Steve Kilbey of The Church.
 •  •  •  •  •  •  •  •  •  •  •  •
Donnette Thayer is a vocalist, guitarist and songwriter, most active in the 1980s and early 1990s indie rock scenes of Northern California. Thayer was a member of the band Game Theory, and later formed Hex with Steve Kilbey of The Church.
LA CABEZA DE FRIDA KAHLO
La cabeza de Kahlo hay sido copiada por Robert Toren de un retrato de Imogene Cunningham.
Imogen Cunningham, hay sido una fotógrafa Americana, nacida el 12 de abril de 1883 en Portland, Oregón y fallecida el 24 de Junio de 1976 en San Francisco.
  •  •  •  •  •  •  •  •  •  •  •  •
Kahlo's head was copied by Robert Toren from a portrait by Imogene Cunningham.
Imogen Cunningham, was an American photographer, born on April 12, 1883 in Portland, Oregon, and died June 24, 1976 in San Francisco.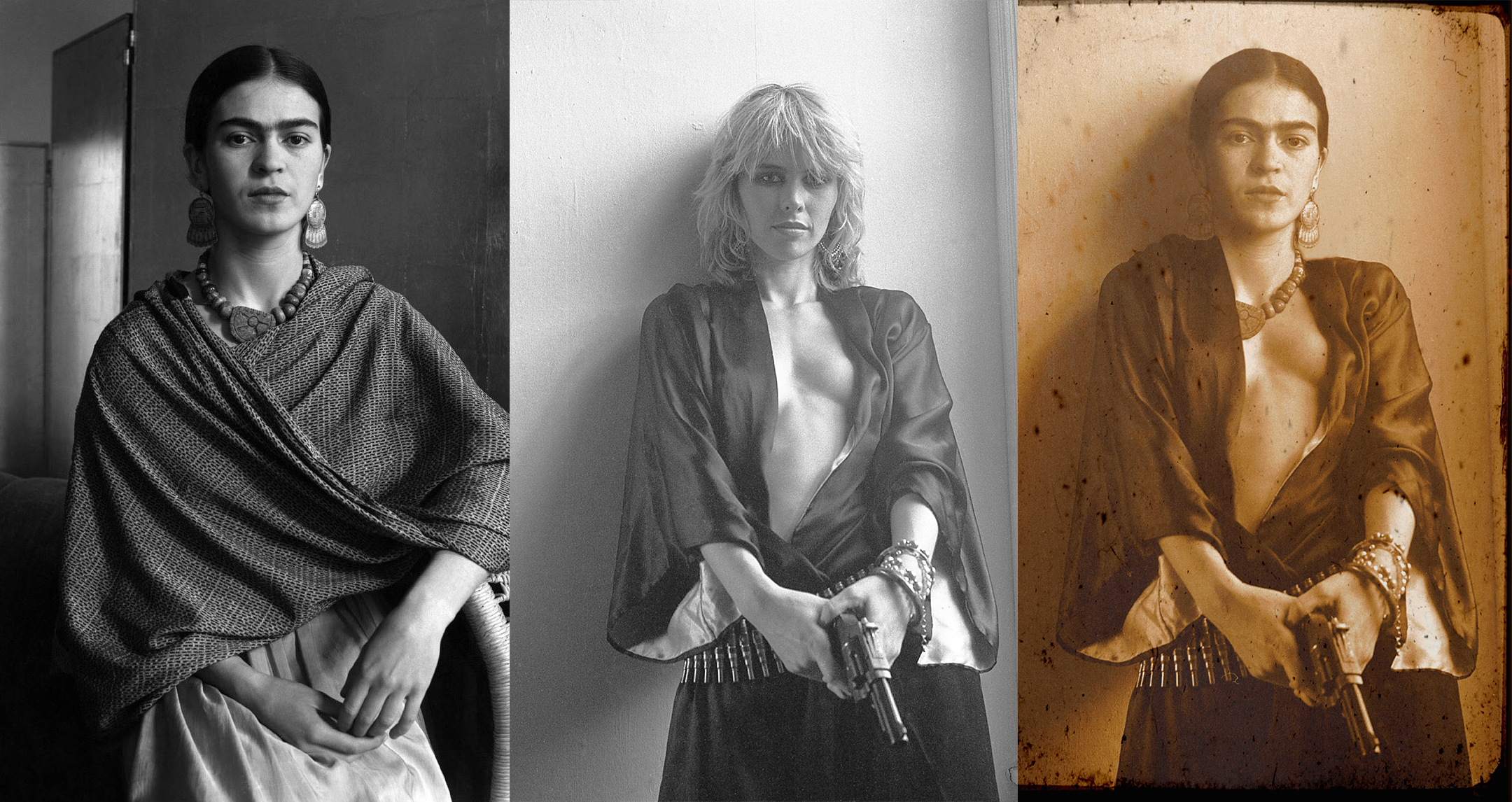 VLADIMIR MAYAKOVSKY AND FRIDA KAHLO PHOTO MONTAGE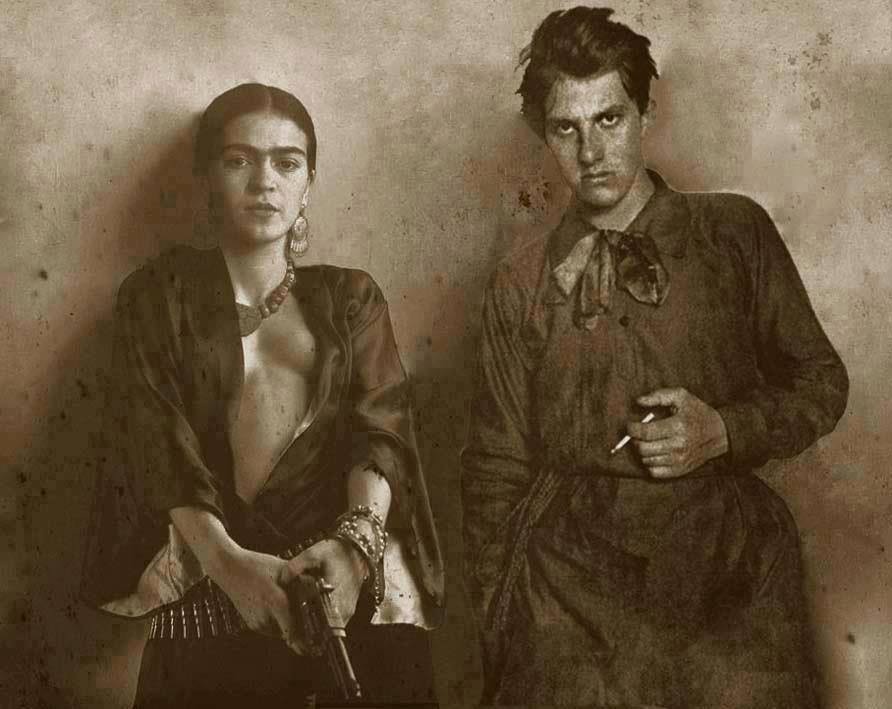 ДВОЕ / A PAIR
El artista ruso Alexander Djikia, pensando que el collage Frida era auténtica, e independiente de la conciencia Robert Toren, hay creado de forma independiente un montaje de una imagen de Vladimir Mayakovsky poeta futurista Ruso.
 •  •  •  •  •  •  •  •  •  •  •  •
The Russian artist Alexander Djikia, thinking the Frida collage was authentic, and independent of Robert Toren awareness, independently created a montage with a futurist poet Vladimir Mayakovsky image.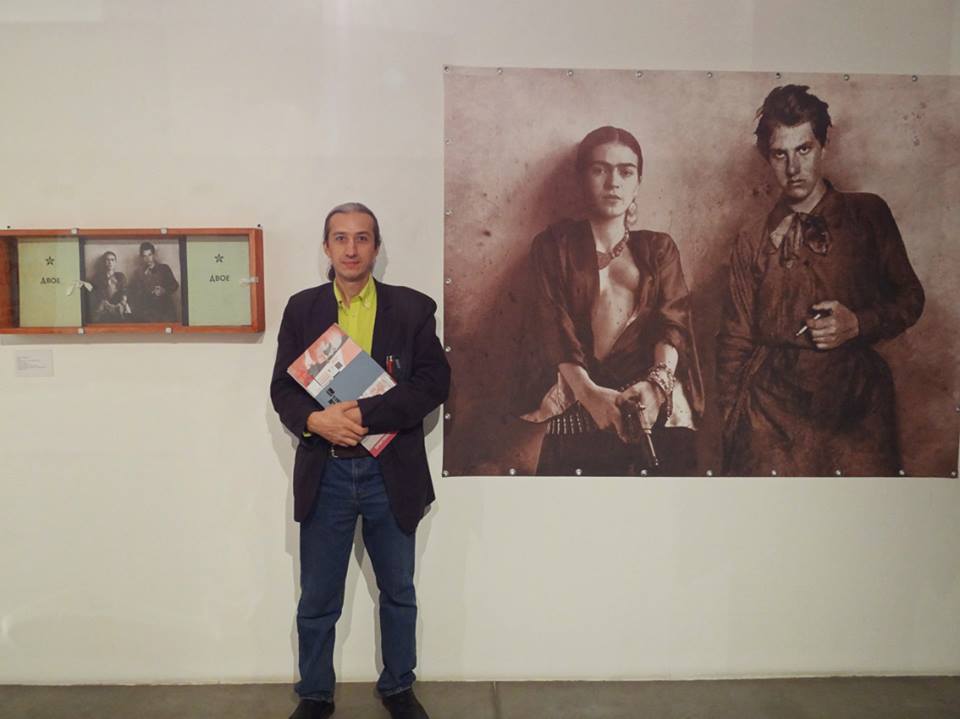 Alexander Djika and his collage
Frida Kahlo nunca conoció Vladimir Mayakovsky. Frida era en ese momento inmóvil en la cama después de un accidente de tráfico. De hecho el poeta Ruso visitó México en 1925 y conoció Diego Rivera.
Diego Rivera acompaño a la Revolución Rusa, con la que estableció estrecho vínculo por conducto de Vladimir Maiakovski
Sin embargo, el deseo de Alexander Djika de hacer un collage, se explica por el hecho de que una combinación de los espiritualmente cerca. lo futurista Mayakovsky y la comunista Frida Kahlo, hace que el ambiente de la época se hace más fácil de comprender.
 •  •  •  •  •  •  •  •  •  •  •  •
Vladimir Mayakovsky and Frida Kahlo never met in fact. Frida was at that time laying still, motionless in bed after a traffic accident.
The Russian futuristic poet visited México in 1929 and met Diego Rivera, Frida`s future husband.
However, a desire of Alexander Djika to make such a collage can be accounted for, by the fact that a combination of the spiritually close futuristic Mayakovsky and communist Frida Kahlo, makes the atmosphere of the epoch easier to comprehend.
Anyway, I`ve swap emails with Alexander Djika, and there is no better person to explain his work then him self:
"Mayakovsky wasn't happy in his relationship with his long-term girlfriend Lilia Brick who was finally one of the main reasons of his suicide.
When I saw Frida's collage made by Robert, I, on the first place, believed that the photo is real, then, I understood that Mayakovsky would have fallen in love with such a girl, so I made a mystical appointment for two young revolutionaries and I thought that they both would make a real good match.
Later on, I learned that this Frida's photo is a collage, I got in touch with Robert and I was happy to find him as a good and generous man, he was ok with my intrusion to his art work and actually he liked it.
This photo became a central piece of a recent art show about Mayakovsky in Moscow.
There are some more pictures on my site, please take a look: www.djikia.com"
 Djikia explicación sobre su trabajo
Maiakovski no era feliz en su relación con su novia de largo plazo Lilia ladrillo que finalmente fue una de las principales razones de su suicidio.
Cuando vi collage de Frida hizo por Robert, que, en primer lugar, creía que la foto es real, entonces, entendí que Mayakovsky se poderia ter enamorado de una chica como Frida, así que hice una cita mística por dos jóvenes revolucionarios y pensé que ambos harían un verdadero buen partido.
Más tarde, me enteré de que la foto de este Frida es un collage, me puse en contacto con Robert y yo estaba feliz de encontrarlo como una buena  y generoso hombre, que estaba bien con mi intrusión a su obra de arte y en realidad le gustaba.
Esta foto se convirtió en una pieza central de una exposición de arte reciente acerca de Maiakovski en Moscú.
Hay algunas fotos más en mi sitio, por favor, eche un vistazo: www.djikia.com

 
VLADIMIR MAYAKOVSKY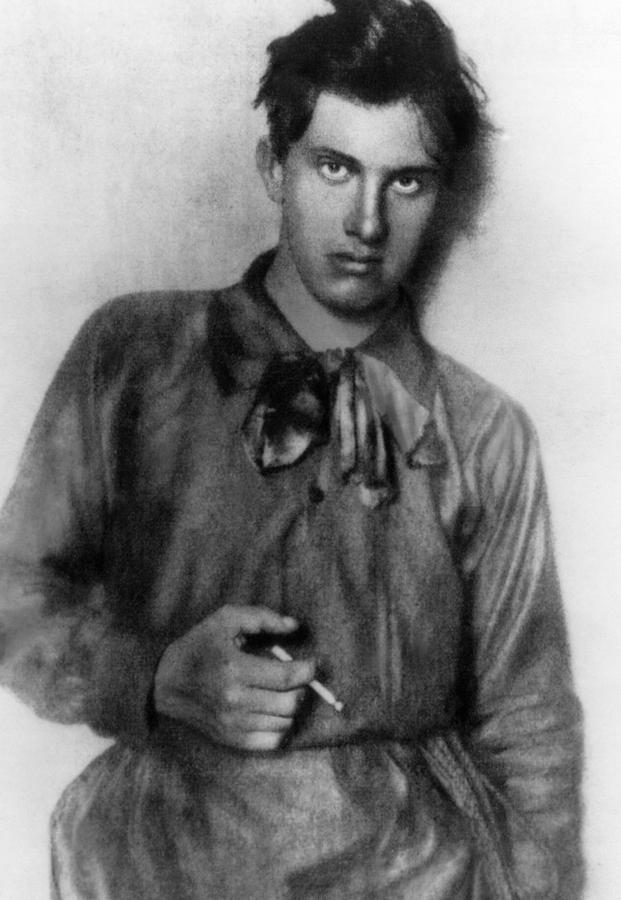 Vladimir Vladimirovich Mayakovsky as a student around 1912
Author Unknown
Vladímir Vladímirovich Mayakovski fue un poeta y dramaturgo revolucionario ruso y una de las figuras más relevantes de la poesía rusa de comienzos del siglo XX. Fue iniciador del futurismo ruso.
•  •  •  •  •  •  •  •  •  •  •  •
Vladimir Vladimirovich Mayakovsky (Russian: Влади́мир Влади́мирович Маяко́вский; July 19 [O.S. July 7] 1893 – April 14, 1930) was a Russian and Soviet poet, playwright, artist and stage and film actor. He is among the foremost representatives of early-20th century Russian Futurism.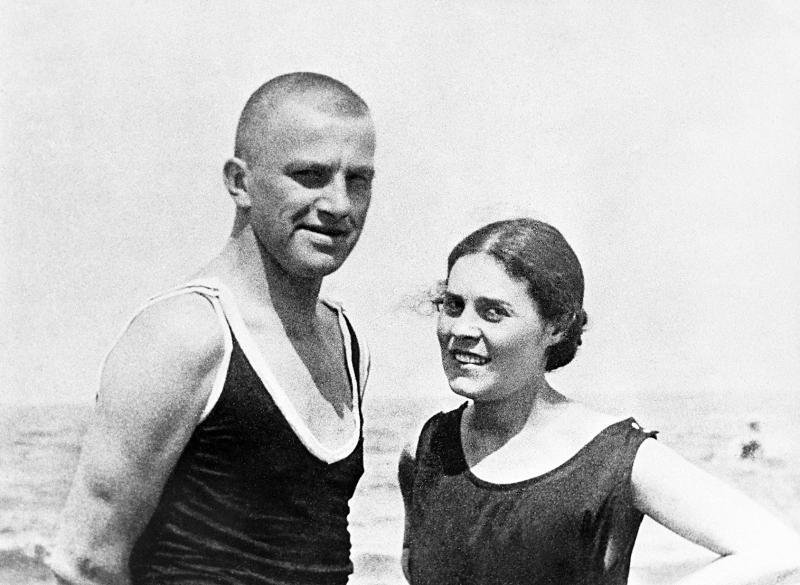 Vladimir Vladimirovich Mayakovsky and his girlfriend Lilia Brick
photo kindly provided by Alexander Djika